ABOUT M&M
35+ Years of Colorful, Rich History...STILL GOING STRONG: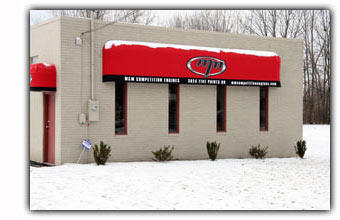 M&M Competition Engines (MMCE) is not an internet based company, rather a company with a rich 35+ year history that is now expanding to the internet as an advertising medium. MMCE has been operating out of the same location since our inception. Located in Indianapolis IN, we are a small "cozy" shop whose colorful history ranges from the early days of manufacturing and marketing the Torqueflite transmissions, to working with several Indy car teams in the 70's, to providing services for & even employing some of the most famous names in the racing industry. Keeping it small allows the quality control to be second to none. Our years of knowledge and experience are evident in every component we produce and engine we build.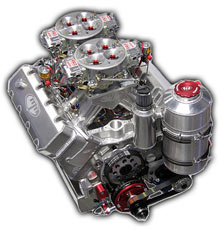 ENGINES & MANUFACTURED COMPONENTS:

We pride ourselves in our ability to fill the customer's needs when it comes to their engine programs. We do not just offer cookie cutter crate engines and try to force in stock items onto customers. We specialize in drag racing / truck pulling applications but also serve the circle track and midget community as well. MMCE offers SB/BB Chevy, SB/BB Ford, and SB/BB Chrysler packages to a variety of markets from pump gas street drivers to all out racing applications. Although we have an unprecedented presence in SB2.2 Chevrolet market, our work does not stop there!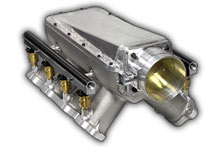 It doesn't end with engine design and building for our team at M&M. We also design and fabricate our own high end engine components in house. With the addition of our CNC machining center a few years ago we are not only able to CNC heads, but also design and manufacture rocker systems for limited applications, take our sheet metal intake program up a notch with several billet options, offer CNC block machining, develop intake systems for naturally aspirated and blower racers alike, manufacture & port cylinder heads for serious power applications, produce & machine cylinder blocks, valve train components, oil pans, & valve covers. Everything that comes from MMCE is developed in-house. From concept to prototype to final working model to marketing to the masses....it all stays under one roof!






FULL SERVICE ENGINE MACHINING & MANUFACTURING FACILITY:


We provide every service that a drag racing engine could every need in house. Our full line of high end engine machining services include: cylinder head port development & flow testing on our Saenz Digital 680 bench, CNC cylinder head porting on our in-house CNC machining center, custom multi-angle valve jobs are performed on our Serdi 100, engine spin balancing duties are completed by our computerized Hines equipment, our Berco 14' line boring machine has the task of needle roller & oversized cam bearing conversions along with align boring of mains, BHJ block machining processes (lifter bushings installed, square deck, etc.), cast iron & aluminum welding repair on blocks, heads & intakes, custom sheet metal manifolds, complete engine development, and CNC prototyping & small quantity runs...JUST TO NAME A FEW! Our latest edition to the MMCE family of services is foundry tooling for the racing industry. All of the equipment and expertise to develop casting pattern equipment was between our four walls so the itt was a match made in heaven. We can now take your ideas for engine components and turn them from ideas to reality in no time. From the initial CAD drawings to the final working and machined components, it never has to leave our facility!




STOCKING WAREHOUSE FOR THE INDUSTRIES LEADING MANUFACTURES:

We are also a stocking warehouse for the industries finest companies.

AFR, ARP, ATI, BG, BRODIX, CALLIES, COMETIC GASKETS, COMP CAMS, COMPSTAR, CROWER, CV PRODUCTS, DART, DIAMOND, EAGLE, EARLS, EDELBROCK, FELPRO, GRP RODS, ISKY, JE PISTONS, JESEL, LSM, MANLEY, MANTON, MEZIERE, MILIDON, MOPAR PERFORMANCE, MOROSO, MSD, NEAL CHANCE CONVERTERS, NOS, OLIVER, PETERSON FLUID SYSTEMS, PROCHARGER, PROFILER, PRO SYSTEMS, T&D ROCKERS, TREND, VICTORY VALVES, WORLD PRODUCTS, & WISECO PISTONS.

If MMCE looks like an option for your engine program, please call us at 317-739-3187 or email us: mmengines@yahoo.com!

Thanks from all of us at MMCE.